THIS CHARACTER IS TO BE USED BY ADMINS OR B-CRATS ONLY
| | |
| --- | --- |
| | This user's character is a Master Magician |
| | |
| --- | --- |
| [[File: | This character is Chief Lector |
Imhotep, Chief Lector -Magician of Everything
-Chief Lector / King of Magic
 – 16:44, August 23, 2011 (UTC)

What do you need?
Imhotep


Title
Chief Lector
Master Magician
Shabti
Important Information
Age
Born 2655 BC, Age Unknown
Gender
Male
Family
Kheredu-ankh (Mother)

Ptah (Father)

Blood of the Pharaohs
N/A
Status
Re-Incarnated
Eye Color
Black
Hair Color
None
Height
5' 11"
Other
Affiliation
The First Nome
Weapons
Magic Khopesh
Specialty
Everything
Home
The First Nome

Memphis, Egypt

Adventures
None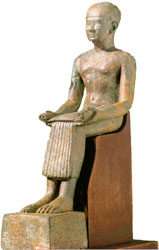 About Imhotep
In priestly wisdom, in magic, in the formulation of wise proverbs; in medicine and architecture; this remarkable figure of Zoser's reign left so notable a reputation that his name is not forgotten to this day. He was the patron spirit of the later scribes, to whom they regularly poured out a libation from the water-jug of their writing outfit before beginning their work.
History
According to myth, Imhotep's mother was a mortal named Kheredu-ankh, elevated later to semi-divine status by claims that she was the daughter of Banebdjedet. Conversely, since Imhotep was known as the "Son of Ptah," his mother was sometimes claimed to be Sekhmet, the patron of Upper Egypt whose consort was Ptah.
Powers
He has the most superior power of all. Since the real Imhotep died thousands of years ago, his spirit was put into a clay shabti. He has power over every type of magic.
Appearance
Since he is a shabti, he has clay colured skin. His eyes are lined with kohl. He wears cream colured robes and wears the leapord cloak.
Ad blocker interference detected!
Wikia is a free-to-use site that makes money from advertising. We have a modified experience for viewers using ad blockers

Wikia is not accessible if you've made further modifications. Remove the custom ad blocker rule(s) and the page will load as expected.